Therme Erding - Термы Эрдинг рядом с Мюнхеном
Термы расположены в городке Эрдинг, про который я не могу ничего рассказать, потому что у меня не было времени его посетить. В самих термах я оказался в мае 2017 года.
А термы мне запомнились. Тут находится самая большая СПА в мире!
Стоимость посещения
Комплекс классически разделен на две зоны -
Состав воды
В 2003 году Министерство окружающей среды присвоило источнику Ardeo, из которого термы получают воду статус: "Минеральный сульфидно-серный"
Calcium 37.25
magnesium 12.32
strontium 0.68
barium 0.13
lithium 0.12
sodium 107.34
potassium 12.17
Manganese 0.02
Iron 0.24
aluminum 0.03
Ammonium 1,23
fluoride 2.23
chloride 71.60
sulfate 1.21
Hydrogen sulfide 2.07
Total sulfur 3.98
Silica 41.09
boron 0.67
Free carbon dioxide 44.26
Мало того, что вода минеральная.
Бани
В этом комплексе, разделенном на 3 больших сегмента, огромное количество саун. Самый большой комплекс в мире.
Therme & Erlebnisbad
Комплекс с горками
Flower pavilion
The application is considered to be particularly gentle on the circulation and strengthens the immune system, which is why even children can experience the soothing warmth of this low-temperature textile sauna with atmospheric light changes. Wellness is celebrated here with the whole family.
Sauna that is gentle on the circulatory system
50%
65 ° C
Opposite the fountain of youth
Crystal salt room
The finest brine mist has a healing effect on the respiratory tract at a room temperature of approx. 25 ° C and cares for the skin. The use is therefore particularly recommended for respiratory diseases and neurodermatitis. By adding scents such as mint and menthol, a visit to the crystal salt room refreshes the mind and counteracts signs of stress and tiredness.
Finest brine mist
53%
25 ° C
Opposite the lounger meadow
Steam bath
Dive in and relax in the thermal bath's steam bath with 100% relative humidity and a pleasant 45 ° C. The warm, rising mist in combination with refreshing scents lets you breathe deeply and noticeably increases your well-being.
Beneficial steam
100%
45 ° C
Opposite the Kneipp course
VitalOase & Wellness
Spherical
The imposing wooden ball in the VitalOase, inside of which a textile sauna is hidden, invites you to feel completely at ease. A highlight is the light show in the middle of the five meter high dome, where various lighting elements bathe the spherical sauna in magical light. Flexible play of colors and a unique feeling of space make sweating at temperatures around 70 ° C an experience.
Light show
70 ° C
20-30%
Jungle Lodge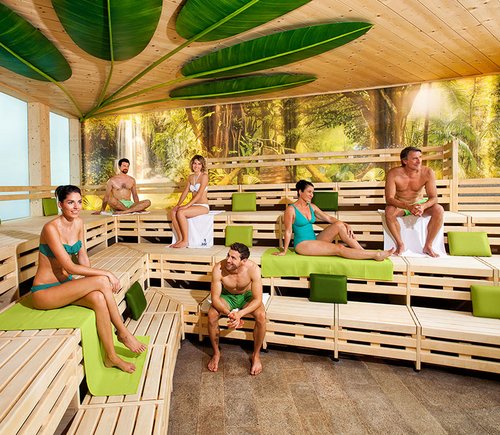 Whoever enters the jungle lodge, one of three textile saunas in the VitalOase (from 16 years), opens up a small jungle paradise. The sunlight carefully fights its way through lush green leaves, undiscovered paths lead you into a mysterious thicket of old gnarled trees and the soft splashing of a waterfall caresses the soul and ears. Tropical temperatures (65 ° C) and the view of a heavenly jungle panorama create a special feel-good atmosphere and let you relax wonderfully.
Jungle panorama
65 ° C
Tepidarium
The stay in this Roman sauna is gentle and stimulating. The dry and body-like room temperature of approx. 38 ° C generates healthy overheating, which strengthens the immune system without burdening the circulation.
Cardiovascular strengthening of the immune system
38 ° C
20%
Caldarium
The caldarium was already a bathing room with a hot water basin in ancient Rome. Sauna lovers who are particularly sensitive to temperature or heat will get their money's worth thanks to the mild inhalation steam, enriched with essential essences and a room temperature of approx. 45 ° C.
Essential vapor for inhalation
45 ° C
20%
Laconium
Enjoy the scent of fresh lavender flower essences in the Laconium warm air sauna. Let yourself be seduced by their calming and relaxing effects. Pleasant temperatures of 42 ° C and low humidity are ideal against stress and at the same time stimulating the circulation.
Lavender scent
42 ° C
20%
Meditation house
Treat yourself to a break and listen to the harmonious sounds of meditative music, while natural materials and soft light create a feeling of security.
Aromatic fragrances
70 ° C
30%
Rainforest
What sounds like a jungle adventure has recently become part of the VitalOase wellness program. The humid rainforest air and the warm mist promote rapid sweating at gentle temperatures and open the pores for optimal absorption of the care products.
Thunderstorm
45 ° C
100%
VitalTherme & Saunen
Russische Banja
Mit Platz für über 100 Gäste gilt diese Sauna als größte Blockhaus-Banja der Welt. Umgeben von beeindruckenden Naturstämmen aus sibirischer Zirbe und dem Duft nach frischem Birkensud wird hier russische Saunatradition gelebt.
Wenik Zeremonie
70 °C
Seesauna
In dieser ca. 70 °C warmen Sauna haben Sie das Gefühl, direkt auf unserem Natursee zu schweben. Das Panoramadeck auf dem Flachdach dieser Sauna lädt Sie nach dem Schwitzerlebnis zum Relaxen mit traumhaften Ausblick ein.
Hör- und Duftreisen
70 °C
15 - 20 %
Kelosauna
Die Kelosauna steht aufgrund von Sanierungsarbeiten derzeit nicht zur Verfügung.
Das größte Kelosaunahaus Europas ist ein rustikales Meisterwerk nordischer Baukunst. Die dort verbauten 500 Kelostämme (=alte, ausgedöhrte Polarkiefern) sind 250 – 300 Jahre alt und kommen aus den Grenzwäldern von Finnland und Russland.
Zwei Saunaöfen
85 °C
5 - 7 %
Kelten-Thron-Sauna
Die ca. 75 °C heiße Kelten-Thron-Sauna ist ideal für trainierte Saunisten, die zur Krönung ihres Besuches den erhöht stehenden Kelten-Thron besteigen können.
Kelten-Thron
75 °C
5 - 7 %
Alpenstadl
In unserer Alpenstadl Sauna schwitzen Sie in der urigen Atmosphäre einer traditionellen Hütt'n und alpenländischer Dekoration bei volkstümlicher Musik. Durch die Panoramascheibe genießen Sie einen traumhaften Blick in den Saunagarten.
Hütten-Flair
85 °C
5 -7 %
Villa Toscana
Die Villa Toscana verbreitet mediterranes Flair. Bei ca. 70 °C können Sie in dieser Aufguss-Sauna Düfte frischer Kräuter aus dem Mittelmeerraum und italienische Klänge genießen. Mit viel Liebe zum Detail und schönen Wandbemalungen wurde diese Erlebnissauna gestaltet.
Mediterranes Flair
70 °C
5 - 7 %
Meditation sauna
Bei der Gestaltung dieser Sauna wurde die klare, asiatische Formensprache gewählt. Meditative Musik und angenehme 70 °C laden zum Entspannen ein. Lassen Sie Ihren Blick durch die Panoramascheibe von der Terrasse über den Außenpool bis hin zum Natursee schweifen.
Asiatisches Ambiente
70 °C
15 - 20 %
Finnish room
In dieser klassischen Schwitzstube genießen Sie Entspannung im finnischen Stil. Das kostbare Holz entsteht durch jahrzehntelange Dehydrierung im trockenkalten Polarklima, nachdem der Baum altersbedingt sein Wachstum eingestellt hat.
Aromaaufgüsse
80 °C
5 - 7 %
Brine tunnel
Der Solestollen steht aufgrund von Sanierungsarbeiten derzeit nicht zur Verfügung.
Ein Aufenthalt im Solestollen (ca. 65 °C) wirkt wie ein Urlaub am Meer. In stilechtem, rustikalen Bergwerksambiente atmen Sie fein vernebelte, jodhaltige Sole ein und fördern so die Abwehrkräfte Ihrer Atemwege.
Bergwerkambiente
65 °C
20 %
Erdinger sweat room
In the hottest and smallest sauna at Therme Erding you can really work up a sweat at around 100 ° C and low humidity. Trained sauna enthusiasts who want to get their circulation going are in the right place in this cozy sweat room.
Hottest sauna
100 ° C
5 - 7%
Tropical sauna
In our tropical sauna you can relax at around 65 ° C and enjoy gentle tropical sounds. The higher humidity of 30% to 35% - compared to a hot, dry sauna - as well as the exotic interior are reminiscent of lush green, humid tropical forests.
Tropical, gentle sounds
65 ° C
35%
Citrus sauna
Experience refreshing light, music and fog effects in combination with the fruity scent of lemon, tangerine, orange or grapefruit. Stock up on new inspiration and energy in the spacious citrus sauna, because citrus fruits invite you to the sunny side of life.
Music, light and fog production
70 ° C
40%
Forest sauna
In this approx. 75 ° C warm, Finnish forest sauna, a classic, secure ambience awaits you in the middle of a green birch forest. Woody scents that stimulate your senses are regularly distributed over the centrally positioned sauna heater.
Woody scents
75 ° C
20%
Rose Pavilion
In this romantic sauna you sit in a sea of ​​roses. At around 80 ° C, the more than 6,000 real roses are preserved in their beauty and give off their bewitching scent.
6,000 real roses
80 ° C
15%
Action Saunas
Herb Chamber

In this action sauna you can enjoy seasonally changing aromas of real pine and fresh herbs, paired with fruity notes of lime and orange. The pure, essential oils exude a health-promoting scent and, with the warmth of the infrared back emitters, ensure pure relaxation.
Infrared back heater
60 ° C
5 - 7%
Salt stone room
Since ancient times, salt peeling has been said to have positive effects such as protection, cleansing, preservation and healing. Enjoy the beneficial effects of the finely misted brine-containing air as well as the calming atmosphere of the salt stone walls bathed in warm light during your sauna session.
Massive salt stone walls
60 ° C
20%
Zirbelstube
Let the scent of the stone pine work on you at 60 ° C in our cozy stone pine parlor with its rustic tiled stove. The essential oils of the stone pine exude a pleasant scent, promote a good sleep and have a positive effect on well-being.
Men / women only promotions
60 ° C
30%
Firmament waiting
In this sauna with amphitheater character you can enjoy the view of an impressive blue starry sky at a pleasant 60 ° C. Discover comets, meteorites, a solar eclipse and much more or explore our solar system and its planets on board space probes.
Film dome
60 ° C
20%
Geyser cave
In this mystical sauna you will experience different visual and physical stimuli, steam, light effects and soothing music sounds. The highlight is the active geyser, which, thanks to its two meter high fountain, maintains a pleasant level of humidity and makes taking a sauna an unforgettable experience.
Bubbling geyser
60 ° C
40-45%
bakery
In the approx. 60 ° C warm bakery, taking a sauna becomes a fragrance experience. Because the freshly baked rolls at the daily "Backe Backe Brötchen" ceremony create a real bakery flair and trigger a feeling of well-being.
Bake your own rolls
60 ° C
20%
Cherry blossom room
The approx. 80 ° C warm cherry blossom room is part of the ladies' sauna area "Ladies only". Here one dedicates oneself entirely to the beauty of women with nourishing yogurt masks. In addition, all female sauna guests can look forward to a "tingling seduction" every day.
Ladies only
80 ° C
5 - 7%
Magnolia room
All female sauna guests can look forward to pure relaxation and free masks in the low-temperature magnolia room, which is located next to the cherry blossom room in the ladies' sauna area "Ladies only".
Ladies only
60 ° C
20%
Паровые бани
Water lily steam bath
In the water lily steam bath, all ladies dive into a small water world and enjoy the exclusive privacy in ladies only. With a view of the splendor of fine water lilies and enveloped in the warmth, you can dream and relax. Care products such as masks or revitalizing salt peeling with a lotus blossom scent are served and guarantee an all-round soothing wellness experience in our sauna world.
Ladies only
40 ° C
100%
Cloud forest
In the cloud forest steam bath you experience a thematically coordinated program with beneficial healing moor and real forest honey at approx. 45 ° C. Fresh, woody scents such as birch green and cranberry have a stimulating effect on body and mind.
Flavored air
40 ° C
100%